What is Reproduction and why do we need it ?
Basic Definition
Reproduction is defined as the production of new organisms from the existing ones of the same species . Hence the word 'Re'
Now,
The process of reproduction requires a

large amount of energy

. 

It is also

not important to maintain the life of an individual

like other life processes for eg. digestion, respiration etc. 
So why is there a need for an individual to invest its energy in a process that is not required to keep it alive?
Importance of Reproduction
All the living organisms

grow old

and ultimately

die

. Therefore, new organisms need to be produced to replace the old ones.

Hence, we can conclude that reproduction is essential for

continuation of life on earth

and for

survival of species

.

Reproduction gives rise to more organisms with the same

basic character

as their parents. 
For example, a human gives rise to a human, a cat produces a cat and so on.
The Role of Genetic Material in Reproduction
DNA is the genetic material of cells. This means that DNA stores all the information required for a cell to grow, perform various functions and respond to its environment.

During cell division, this DNA is passed onto the daughter cells from the parent.

Therefore, DNA is inherited from one generation to another. Because  of this reason, the offspring produced are similar to the parent.
If we alter this information then the type of proteins formed will change thereby changing the whole body design.

So,

DNA replication

(i.e. formation of a copy of the DNA) is a very important step in reproduction.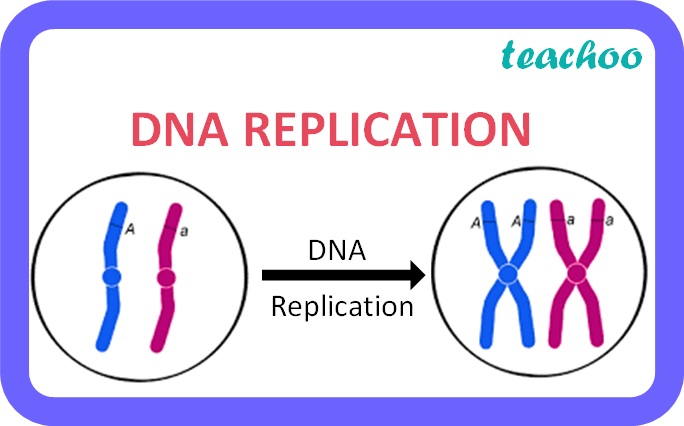 This step ensures that the offspring receives the

same copy of DNA

as that of the parent.

The process of DNA replication is accompanied by creation of additional cell apparatus and then the DNA copies separate.
How does DNA replication gives rise to variations:
If the daughter cells produced are completely identical to the parent or not depends on

how accurately the DNA copy is made

.

Since no biochemical reaction is completely reliable, some

errors

are expected to occur in the DNA copying which results in

variation

. 

Because of these variations, the

daughter cells are similar

but

not completely identical to the parent

.

If these variations are very drastic, the DNA may not be able to work and the cell dies.

These discrepancies form the basis of

evolution

.