What are Different Industrial Divisions?
or
What is Distribution of Workers by Industry?
All economic activities can be categorized into 8 industrial divisions:
1 Agriculture
2 Mining and Quarrying
3 Manufacturing
4 Electricity, Gas and Water Supply
5 Construction
6 Trade
7 Transport and Storage
8 Services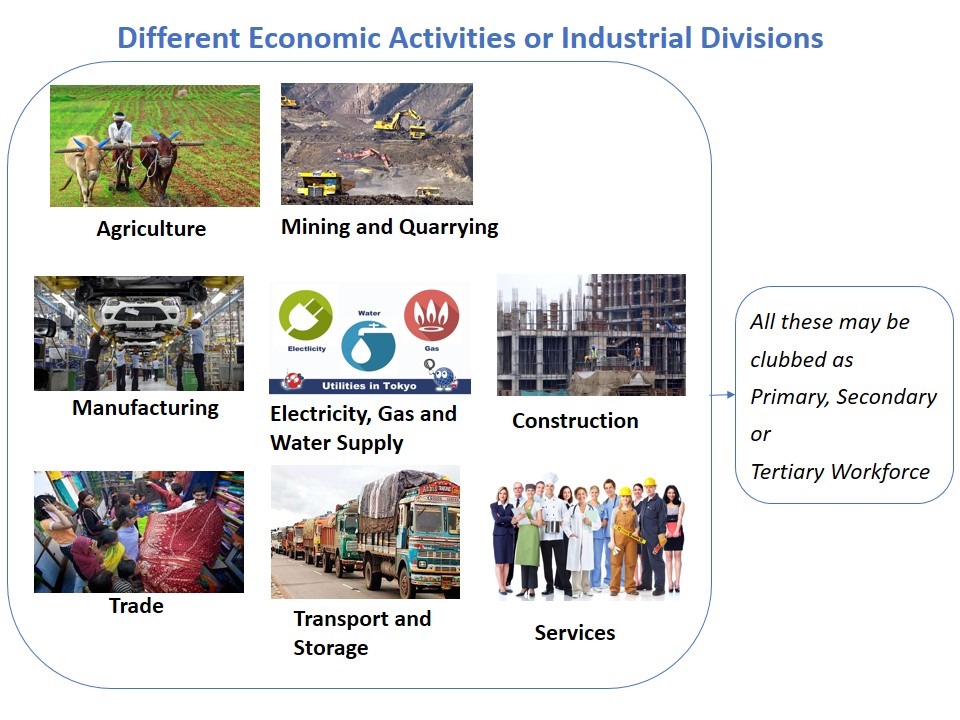 What are 3 Major Sectors of Workforce?
Primary Sector, Secondary Sector and Tertiary Sector
1 Primary Sector
This sector Produces Raw Materials for Other Sector
Example - Agriculture Sector (A farmer grows cotton which is a Raw Material for Making Cloth)
2 Secondary Sector
It refers to that Sector which uses Raw Material Produced to Make Finished Produces
Example - Manufacturing (A factory uses Cotton as Raw Material to Produce Cloth)
3 Tertiary Sector
This Sector Provides useful services to other Sectors
Example- Banking Service
(A bank provides service to both Primary as well as Secondary sector)
Which Industrial Division fall in which Sector?
Agriculture Primary Sector, Mining and Quarrying  - Primary Sector
Manufacturing Electricity, Gas and Water Supply, Construction - Secondary Sector
Trade, Transport and Storage, Services - Teritary Sector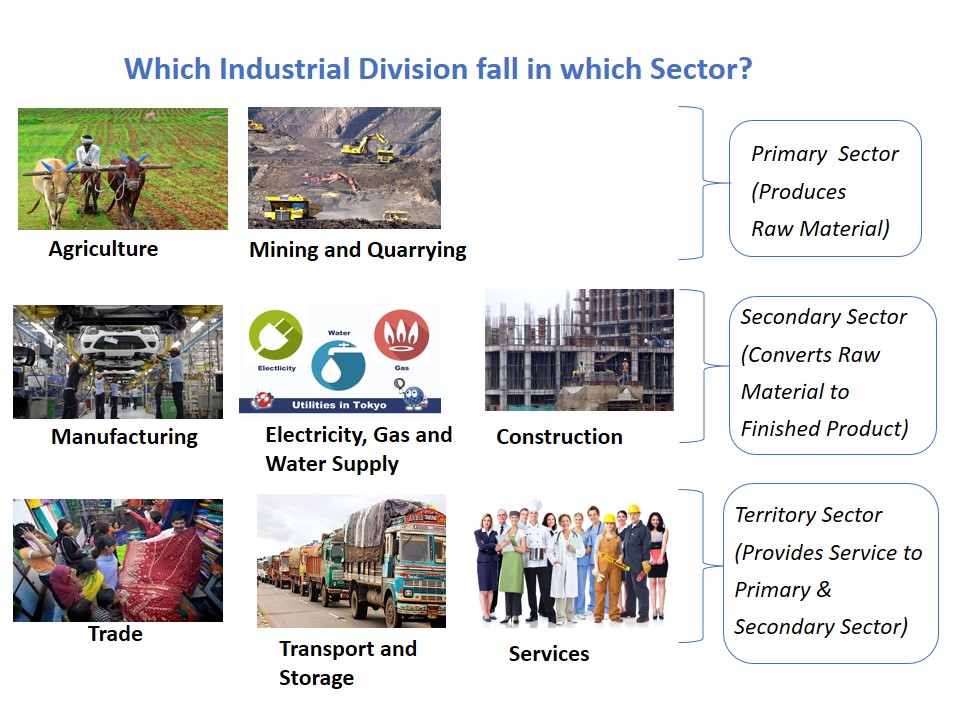 Which Sector is Main Source of Employment ?
In Rural Areas
Primary Sector is Main Source of Employment
It is because majority of people do agriculture in villages
Around 64% of people are dependent upon Primary Sector (agriculture)
In Urban Areas
Argiculture is not main source of employment as there are very little farms in urban areas
Tertiary Sector is Main Source of Employment
Around 58% of people work in Teritary Sector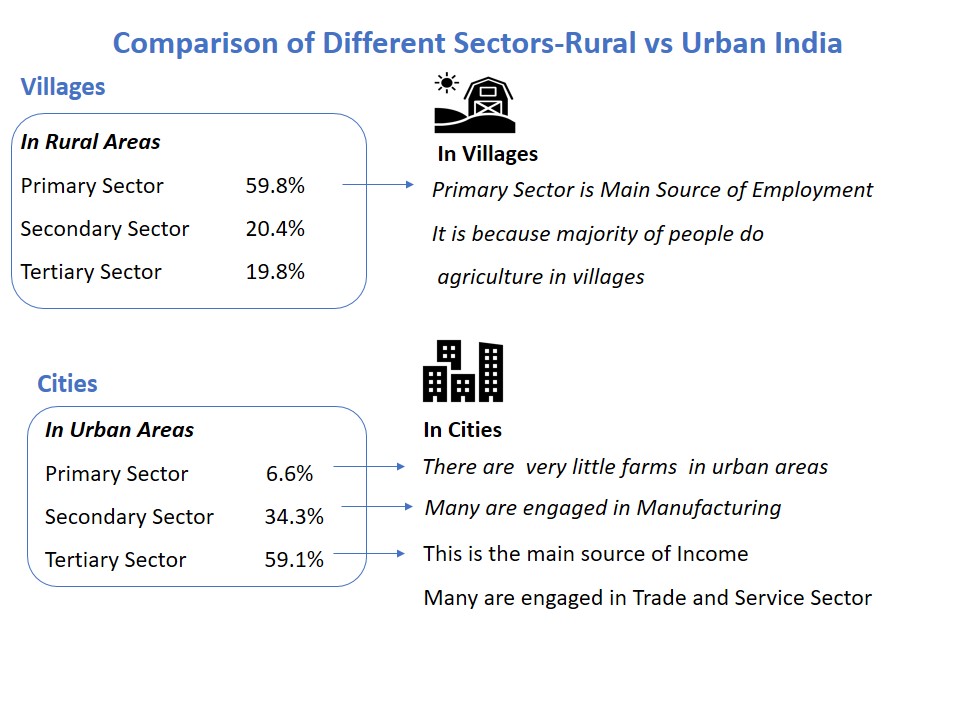 In Primary Sector, is concentration of Women high or Men?
Concentration of Women is High as compared to men
(62.8 % for women compared to 43.6 % for men)
It is because in Rural Areas, Men are allowed to go out and work in different sectors
while women stay at home and work in farms
NCERT Questions
Q5
The newly emerging jobs are found mostly in the ______ sector (service/manufacturing).
View Answer
---
Q11
The following table shows distribution of workforce in India for the year 1972-73.
Analyse it and give reasons for the nature of workforce distribution.
You will notice that the data is pertaining to the situation in India about 50 years ago!
View Answer
The following points can be anaylsed from the data:
1 Majority of the workforce, 83% (195M) out of 234M used to work in rural areas.
Only has a small amount, 17% of the population was working in urban areas
In 1972-73, agriculture was the primary source of occupation and was practiced by the rural population
2 Males used to dominate the workforce, both in rural as well as urban areas.
The participation of males was high because females were mostly confined to household work
and not given major opportunities to study or develop skills
3 More proportion of rural females, as compared to urban females.
In rural areas, females constituted for 36% of the workforce.
While in urban areas, females constituted only 18% of the workforce
---
Q15
Analyse the recent trends in sectoral distribution of workforce in India.
View Answer
The sectoral distribution of workforce in India is as follows:
1 Primary sector is the main source of occupation with 48.9% of the workforce
2 Secondary sector provides employment to only 24.3% of the workforce
3 26.8% people are employed in the tertiary sector
---
Q16
Compared to the 1970s, there has hardly been any change in the distribution of workforce across various industries.
Comment.
View Answer

1 Percentage of people dependent on Agriculture declined from 74.3% to 44.6%
2 Due to industrialisation and Urbanisation Percentage of People employed in Secondary and Tertiary Sector increased
3 Hence,there is substantial shift from Non Farm Work to Farm Work
4 However, India is still an Agrarian Nation as Large number of People are still dependent on agriculture
---
Other Books
Q1
Which Sector is Main Source of Employment ?
View Answer
Primary Sector is the main Source of employment
In Rural Areas
Primary Sector is Main Source of Employment
It is because majority of people do agriculture in villages
Around 64% of people are dependent upon Primary Sector (agriculture)
In Urban Areas
Argiculture is not main source of employment as there are very little farms in urban areas
Tertiary Sector is Main Source of Employment
Around 58% of people work in Teritary Sector
---