UNIQUE COMMON ENROLLMENT FOR TRANSPORTER
A Transported registered in more than one state with same PAN No may apply for
Unique Common Enrollment No by submitting FORM ENR-02, provided he may not be able
to use old Good and Services Identification No.
Due Date for Gstr-6
Due Date for Gstr-6 From July 2017 to June 2018 has been Extended till 31st July 2018
LATE FOR GSTR-3B WAIVED IN SOME CASES
due date for each of the months from October,
2017 to April, 2018, for the class of registered persons whose declaration in FORM GST
TRAN-1 was submitted but not filed on the common portal on or before the 27th day of
December, 2017:
Provided that such registered persons have filed the declaration in FORM GST
TRAN-1 on or before the 10th day of May, 2018 and the return in FORM GSTR-3B for each
of such months, on or before the 31st day of May, 2018.
NO REVERSE CHARGE ON UNREGISTERED DEALER TILL 30 SEPTEMBER
Earlier reverse charge on unregistered dealer was suspended till 31st March now extended till 30th September
Learn more
https://www.teachoo.com/6060/1968/What-is-Reverse-Charge-Mechanism-(RCM)-in-GST/category/Reverse-Charge-in-GST/
E-WAY BILL FOR DELHI
E-way Bill are compulsory for intra state movement of in all states
However for delhi E Way bill is compulsory if amount is more than 100000(and not 50000)
Also it is compulsory only in case of B2B (and not B2C)
Note-For interstate sales,rules are same all over India
Different rules are only for intrastate in Delhi
GST Rate for Manufacturers also 1% in Composition Scheme
Government has changed GST Rates for Manufacturers from 2% to 1% vide Notification 1/2018
Hence, now GST Rates are similar for Traders and Manufacturers
Summary of Rates
| | | |
| --- | --- | --- |
| Type of Business | TILL 31 DEC 2017 | FROM 1 JAN 2018 |
| Trader | 1% | 1% |
| Manufacturer | 2% | 2% 1% |
| Restaurant | 5% | % |
---
E-Way Bill Compulsory from 1 Feb 2018
E-Way Bill needs to be generated for movement of goods 50000 or more
Transporter has to carry this E way bil while moving goods from one placed to another
This has to be generated either
Online at E Way bill website ewaybill.nic.in
Or
Through SMS
This has been started in a trial manner from 16 Jan 2018 and will be compulsory from 1 Feb 2018
It will be mandatory from 1 April 2018
For details procedure refer
https://www.teachoo.com/6667/2184/E-way-bill-process-in-UP-(Uttar-Pradesh)/category/E-way-bill-process/
---
Due Dates of GST Returns Extended
1. Due dates for GSTR-1 for monthly tax payer
July - November, 2017
10th January, 2018


December, 2017
10th February, 2018


January, 2018
10th March, 2018
April, 2018
31st May, 2018
May, 2018
10th June, 2018


June, 2018
10th July, 2018
2. Due dates for GSTR-1 for quarterly tax payer
July - September, 2017
10th January, 2018


October - December, 2017
15th February, 2018


January - March, 2018
30th April, 2018
April - June, 2018
31st July, 2018
3. Due Dates for Other GST Returns Extended
Form No

Applicable for

Due Date

GSTR 5

July-Dec

Non Resident Taxable Person

31 Jan 2018

GSTR 5A

July-Dec

Online information and database access or retrieval services

31 Jan 2018

FORM GST ITC 01

July-Nov

Taking GST Credit in Case of Existing Stock in Hand(Fresh Registration, Conversion of composition into Regular Scheme)

31 Jan 2018
Reduction in Late fees for GST Return of Composition Dealer
Late fees for late filing of return for Composition Dealer has been made same as Regular Dealer
Late fees is as follows
| | |
| --- | --- |
| Case | Late Fees |
| In case No Tax Payable | 20 per day |
| In Case Tax Payable | 50 per day |
Note:-

Late fees Is to be divided equally into CGST and SGST

Even if IGST is payable, still for late fees we have to pay CGST and SGST(and not IGST)
No GST on Advance Received in Case of Goods
As per Time of Supply of Goods
Gst is payable on earlier of Invoice
Last Date of Invoice
Date of Payment
Hence,if payment received in advance,GST was payable on advance received
This condition has been removed now from 15 Nov 2017 vide Notification 66/2017
Hence,if advance received by Trader or Manufacturer,but goods not yet sold,now no GST is payable
However,receipt voucher is still to be issued by Trader/Manufacturer on receipt of advance(even though no tax is to be paid to govt)
Note:-

This concession is only for goods,not servicesHence GST is payable if advance received by Service Provider

In case of Reverse Charge,if payment made in advance,still reverse charge is applicable for both gods and services.

---

Note:-

GST has had other changes. See GST Changes on the 10 November Meeting
Download in PDF
Changes Made in GST Council Meeting 6 Oct 2017
View
Registration Limit in GST is 20 lacs for Both Local and Interstate Sales
Earlier,
If a Person has turnover upto 20 lacs, they are not required to take registration
However if person is making interstate sales of even 1 Rupee, Compulsory Registration Required

Now,
If turnover is upto 20 lacs of Local + Interstate combined, then Registration Not Required
---
File Quarterly GST Returns 1, 2, 3
Earlier,
Normal Registered Dealer had to file Monthly GST Returns 1,2,3
Now,
If turnover is upto 1.5 Crores, then Quarterly Returns Required from Oct-Dec
However GSTR3B to be filed for Oct, Nov, Dec
---
Composition Dealer Turnover Limit Raised
Earlier
If turnover was upto 75 Lacs, then Person can Opt for Composition Scheme
Now
If turnover upto 100 lacs, then Composition Scheme can be availed
---
Option to Avail Composition Scheme
Person can opt for Composition Scheme till 31 March 2018
Suppose scheme opted in one month will be effective from Next Month
Example
Normal Dealer opts for Composition Scheme by 20 Nov 2017
He will file Composition Dealer Return and Tax starting from 1 Dec 2017
---
Reverse Charge to Unregistered Dealer suspended till 31-3-2018
Reverse Charge on purchases From Unregistered Dealer has been abolished till 31 March 2018.
Other Reverse Charge are still Applicable. like reverse charge on advocate and Good Transport Agency
However, what will happen to Reverse Charge already deposited is still not clear
Whether we can claim input of the same after payment or will it be refunded to us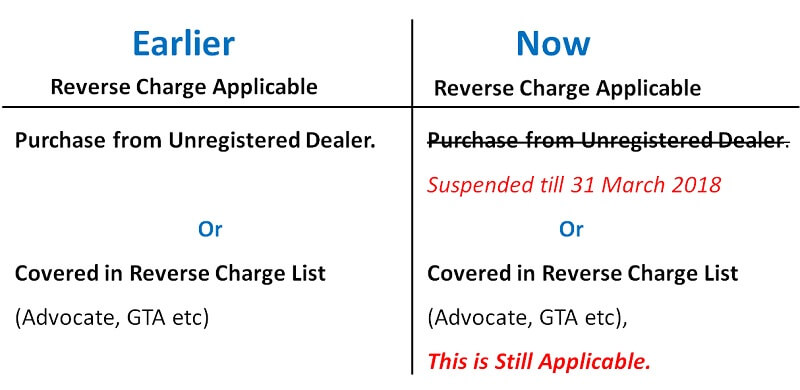 ---
No GST on Advance Received for Small Business
Suppose I receive money in advance in July
Sales made for the same in September
Tax on it was calculated in July Return to be paid by 20 Aug
Now
For small business(upto 1.5 crores)
Tax on it will be calculated in September Return to be paid by 20 Oct
This 1.5 Crores limit is of current year or last year is still not clear
---
GTA Service To Unregistered Person Exempted
Earlier If Goods Transport Agency (GTA) provided services to Unregistered Persons, they had to pay GST
Because of this GTA were not willing to supply services to Unregistered persons.
Now,
This service has been exempted.
---
Other Changes
E-WAY BILL
Concept of E-Way Bill to be Introduced in Staggered Manner starting from 1 Jan 2018
There will be different dates for its launch in different states
In Whole of India,it will be launched by 1 April 2018


TDS TCS IN GST
TDS TCS in GST will also be differed to 1 April 2018


DUE DATES
Due Dates for GST Returns has been changed as follows



For Input Service Distributor
GST Return for July, Aug, Sep to be filed by

15 Nov 2017




For Composition Dealer
GST Return for July - Sep Quarter to be filed by

15 Nov 2017





Changes in Invoice Rules
For Certain Registered Persons, Invoice Rules will be changed
The details of same are still not been notified
Download Recent Changes in GST in PDF Format
-ev-